On September 10, 2016, JFBCF presents a Picnic Day at the Lafayette Reservoir! Please join us for a silent auction, Kinder's BBQ lunch, and Kid's Games & prizes!
Please Download the Flyer for more information.!!
NEWS:
Please read this ABC News article to find how our fundraising benefits others!

Personalized Vaccines To Fight Brain Cancer UCSF is trying an innovative way to treat deadly brain cancer. Doctors there are using a vaccine made from the patient's own tumor to trigger the immune system.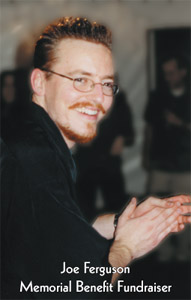 On September 3, 2003 Joseph (Joe) Ferguson lost a gallant fight for life to the most severe form of brain cancer – Glioblastoma Multiforme. In just four short months from diagnosis, Joe's dreams and aspirations for a career in the film industry evaporated with his passing. His love for a fun filled life, devotion to his family and friends and taking on new challenges is what made Joe such a special person.
In March of 2005 the Joe Ferguson Brain Cancer Foundation (501c) was established. This foundation is impassioned by Joe's struggle and his love for life. The families goal in establishing this foundation is to keep Joe's memory alive by supporting research efforts that may someday save the life or lives of others threatened by this dreadful disease.
A nonprofit foundation exist for the sake of its mission and to bring about change in individuals and in society. It is therefore important that you know the foundation's mission:
To support research that will generate new knowledge leading to increased rates of survival and improve functional recovery for individuals with brain cancer.
To provide hope and support for those individuals and families affected by this life threatening disease.
Net proceeds from foundation events are contributed to Brain Cancer Research Organizations.